Incredibly easy and flavorful! Slow cooking the brisket produces tender meat and a rich gravy.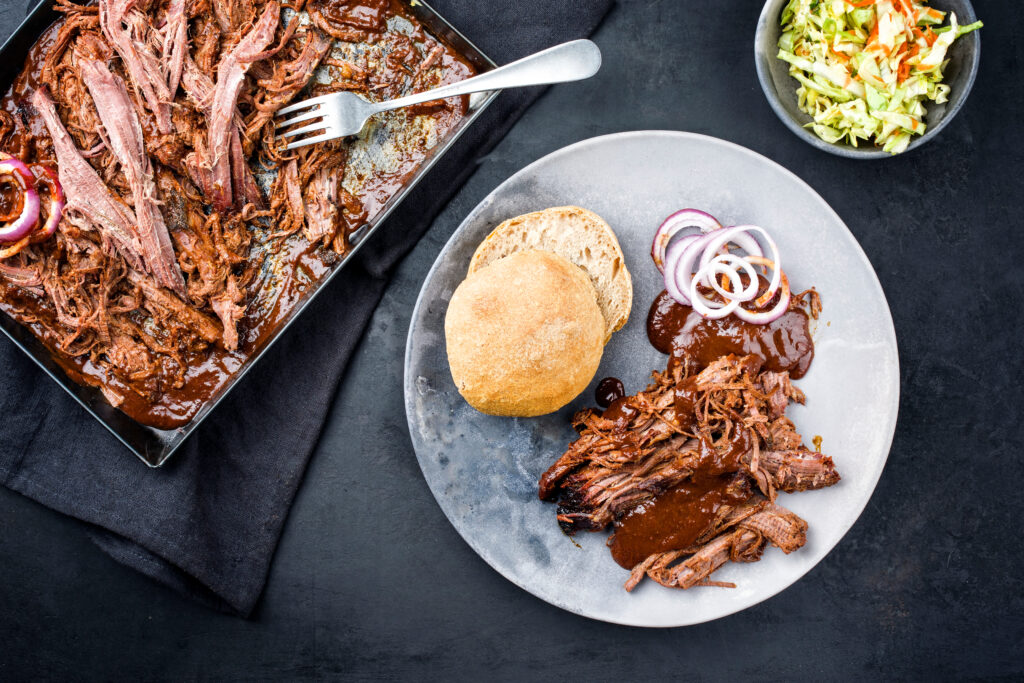 1 Kg U.S. Brisket
10 g salt
5 g freshly ground black pepper
2 g coffee powder
1 L water
4 garlic cloves
1 cinnamon stick
2 bay leaves
400 g canned cherry tomato
20 g dried coriander powder
40 g honey
30 ml balsamic vinegar
45 ml soy sauce
6 drops Tabasco sauce
20 g corn starch
Shredded cheese (Optional)
Cornbread
2 eggs
40 g sugar
50 g honey
800 g yogurt
60 g unsalted butter, melted
160 g cornmeal
100 g all-purpose flour
10 g baking powder
1 pinch of salt
Season the U.S. brisket with salt, black pepper and coffee powder. Sear it in a hot frying pan on high heat for 4 minutes (2 minutes on each side).
Once the brisket is caramelized, transfer to a pressure cooker. Add the water, garlic, cinnamon, bay leaves, canned tomatoes, and coriander powder. Bring the liquid to a boil, put the lid on and cook for 1 hour.   (Alternatively, instead of using a pressure cooker, you can cook the brisket covered with aluminum foil in the oven with the water, all the aromatics, and tomatoes at a temperature of 160°C or 320°F for 3 hours).
Meanwhile, make the cornbread
Once the brisket is cooked, remove it from the cooker (or oven) and shred it using two forks while it is still hot.
Discard bay leaves and the cinnamon stick. Blend the remaining liquid, using a hand blender.
In a saucepan, bring the cooking liquid back to a boil. Add honey, soy sauce and Tabasco sauce. Thicken with corn starch to the desired consistency.
Cornbread  
Preheat the oven to 190°C (or 380°F).
Grease a 25 cm wide iron skillet with 40 g of butter and heat it in the oven.
Meanwhile, whisk the granulated sugar and the eggs until combined and creamy. Add honey, yogurt, and butter in a bowl, then incorporate the cornmeal, flour, baking powder and the salt.
Remove the skillet from the oven and pour the cornbread batter in it. Bake for 20 to 25 minutes or until the bread is cooked and golden brown at the base.
Plate your dish by layering the pulled brisket on a slice of cornbread with a generous ladle of sauce and some cheese shreds. Garnish with some fresh chives or any other greens, if desired.
Cooking time: 25 to 30 minutes

Cooking time: 1-1/2 to 1-3/4 hours

Cooking time: 25 to 30 minutes


We want to know your opinion