U.S. Department of Agriculture, Agricultural Research Service, 2010. USDA National Nutrient Database for Standard Reference, Release 23. Nutrient Data Laboratory Homepage. www.ars.usda.gov/ba/bhnrc/ndl * A 3-oz serving of lean beef provides approximately 17 percent of the highest adequate intake for choline (550 mg). Dietary Reference Intakes, Institute of Medicine of the National Academies, National Academies Press, Washington, DC, 2006. Guidance for Industry, A Food Labeling Guide. U.S. Department of Health and Human Services, Food and Drug Administration, Center for Food Safety and Applied Nutrition, October 2009.
It's easier than you think to build a healthful diet with beef. You may be surprised to hear that a 3-oz serving of lean beef (about the size of a deck of cards), has about 150 calories on average and is a good or excellent source of 10 essential nutrients like zinc, iron and B vitamins.
Perhaps most importantly, a single serving of beef provides nearly 50 % of the Daily Value for protein. Studies suggest that protein promotes satiety, so you'll feel full longer and satisfy cravings faster. Evidence shows protein can help in maintaining a healthy weight, building muscle and fueling physical activity – all of which play an important role in a healthful lifestyle and disease prevention.
Lean beef is also the perfect partner for your favorite fruits, vegetables and whole grains, making it even easier to build a colorful, nourishing and balanced meal. Eating lean beef as part of a healthy diet and active lifestyle results in positive benefits like improved nutrient intakes and overall diet quality and may promote weight loss.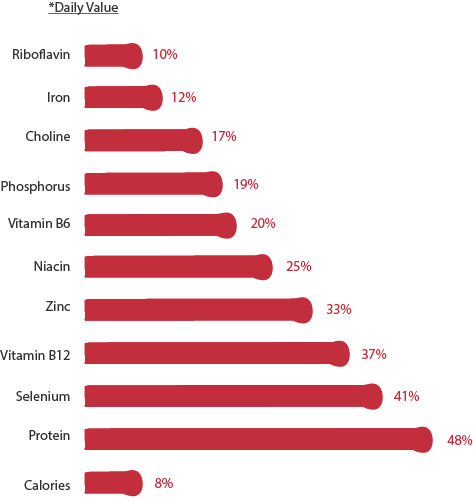 There are more than 29 cuts of beef that meet US government guidelines for "lean," including T-Bone, Tenderloin, Top Sirloin and 95% lean Ground Beef. Lean is defined as:
less than 10 g total fat
4.5 g or less saturated fat
less than 95 mg cholesterol
90% of the total and saturated fat in the American diet comes from foods other than beef. And lean beef contributes less than 5 % of the total calories and saturated fat in the American diet. Beef is just like most other foods that contain fat – it has a fatty acid package containing various amounts of saturated fat, monounsaturated fat and polyunsaturated fat.
| Lean Cuts | Calories | Total Fat | Satured Fat | Cholesterol |
| --- | --- | --- | --- | --- |
| Beef eye round | 141 | 4,0 | 1,5 | 59 |
| Beef top round | 169 | 4,3 | 1,5 | 76 |
| Beef tip round | 149 | 4,3 | 1,5 | 69 |
| Beef top sirloin | 162 | 8,0 | 2,2 | 76 |
| Beef top loin | 168 | 7,1 | 2,7 | 65 |
| Beef eye round | 175 | 8,1 | 3,0 | 71 |
Tips for chefs to get the most out of the US beef
they sell in their restaurants.