Thai-Braised Beef Shanks and Fresh Pickled Vegetable Salad
Thai-Braised Beef Shanks and Fresh Pickled Vegetable Salad
Combine the hearty flavors of slow-cooked beef with a fresh and light Thai-style salad. This recipe is sure to satisfy.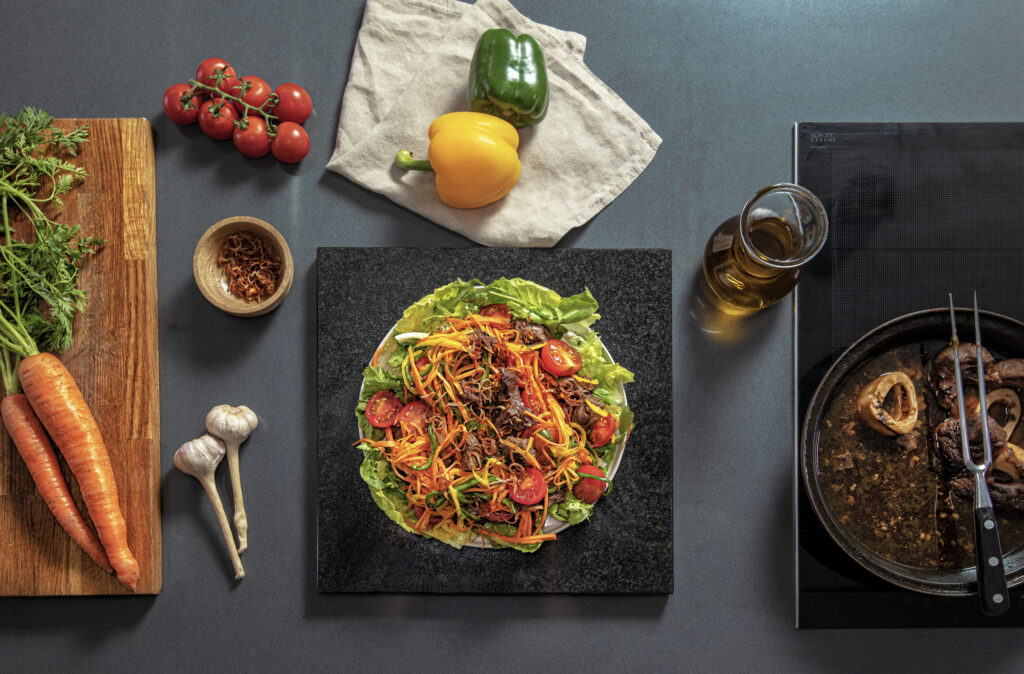 800 to 1 kg beef Shank Cross Cuts, 3 cm inches thick
2 teaspoons olive oil
4 cups reduced-sodium beef broth
1/2 cup (120 ml) fish sauce (nam pla)
1/4 cup granulated sugar
3 stalks lemon grass, white part only, finely chopped
1/4 cup chopped fresh cilantro
1/4 cup reduced-sodium soy sauce
1 teaspoon minced garlic
Vegetable Salad:
1 cup sugar
1 cup unseasoned rice wine vinegar
2 tablespoons fish sauce (nam pla)
5 thin slices fresh ginger
2 pieces (5 cm each) lemon grass, thinly sliced lengthwise
8 sprigs fresh cilantro
1 cup thinly sliced fresh carrots
1 cup thinly sliced green or yellow bell peppers
1 cup grape tomatoes, halved
8 cups mixed greens
1/2 cup fried shallots (optional)
Heat oil in stockpot over medium heat until hot. Brown beef Shanks, in batches, on all sides. Remove beef from pan. Pour off drippings. Combine broth, 1/2 cup fish sauce, 1/4 cup sugar, lemon grass, cilantro, soy sauce and garlic in stockpot; bring to a boil. Return shanks to stockpot. Reduce heat; cover tightly and simmer 1-1/2 to 2-1/4 hours or until shanks are fork-tender.
Meanwhile, combine 1 cup sugar, vinegar, fish sauce, ginger, lemon grass and cilantro sprigs in medium saucepan. Bring to a boil over medium heat. Remove from heat; strain liquid and cool. Combine carrots, peppers and vinegar mixture in large bowl. Cover and refrigerate for 1 hour or until ready to serve.
Remove shanks from stockpot. When cool enough to handle, cut beef from bones. Combine vegetable mixture, tomatoes and beef in large bowl; strain excess liquid. Serve beef mixture over greens. Garnish with fried shallots, if desired.
Cook's Tip: Store-bought fried shallots are available at Asian markets. French fried onions may be substituted.
Cooking time: 25 to 30 minutes

Cooking time: 1-1/2 to 1-3/4 hours

Cooking time: 25 to 30 minutes


We want to know your opinion