Three-Pepper Tenderloin Roast with Mushroom & Leek Barley
Three-Pepper Tenderloin Roast with Mushroom & Leek Barley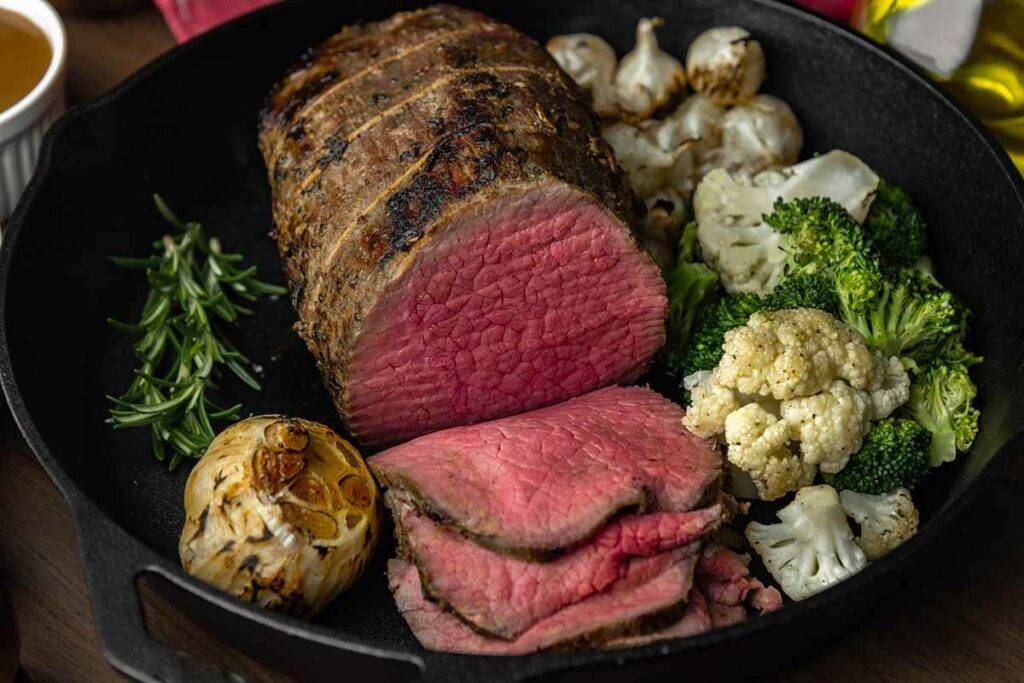 1 center-cut beef Tenderloin Roast (2 to 3 pounds)
1 tablespoon coarsely ground mixed peppercorns (black, white, green and pink)
1 pound cremini or white button mushrooms, halved or quartered if large
3 medium leeks, white and light green parts only, cut in half lengthwise then crosswise into 1/2-inch thick pieces
2 tablespoons olive oil, divided
1 cup uncooked quick-cooking barley
2-1/2 cups reduced-sodium beef broth
1/2 cup dried sweetened cranberries or cherries
Salt
1. Preheat oven to 425°F. Press peppercorns evenly onto all surfaces of beef roast. Combine mushrooms, leek and 1 tablespoon oil; toss to coat. Arrange vegetables in single layer on rimmed baking sheet.
2. Place roast on rack in shallow roasting pan. Insert ovenproof meat thermometer so tip is centered in thickest part of beef, not resting in fat. Do not add water or cover. Roast beef in 425°F oven 35 to 40 minutes for medium rare; 45 to 50 minutes for medium doneness. Roast vegetables 35 to 40 minutes or until tender and lightly browned, stirring once.
3. Meanwhile, heat remaining 1 tablespoon oil in 3-quart saucepan until hot. Add barley and cook 3 to 5 minutes or until golden brown, stirring frequently. Add broth and cherries; bring to boil. Reduce heat and simmer; covered, 10 to 12 minutes or until barley is tender. Keep warm.
4. Remove roast when meat thermometer registers 135°F for medium rare; 150°F for medium. Transfer roast to carving board; tent loosely with aluminum foil. Let stand 15 to 20 minutes. (Temperature will continue to rise about 10°F to reach 145°F for medium rare; 160°F for medium.)
5. Stir mushrooms and leeks into barley mixture. Carve roast into slices. Season barley and beef with salt, as desired. Serve with barley.
This recipe is an excellent source of fiber, protein, niacin, vitamin B6, vitamin B12, selenium, zinc and choline; and a good source of iron.
Cooking time: 25 to 30 minutes

Cooking time: 1-1/2 to 1-3/4 hours

Cooking time: 25 to 30 minutes


We want to know your opinion