Tarragon And Mustard Beef Salad For Summertime
Tarragon And Mustard Beef Salad For Summertime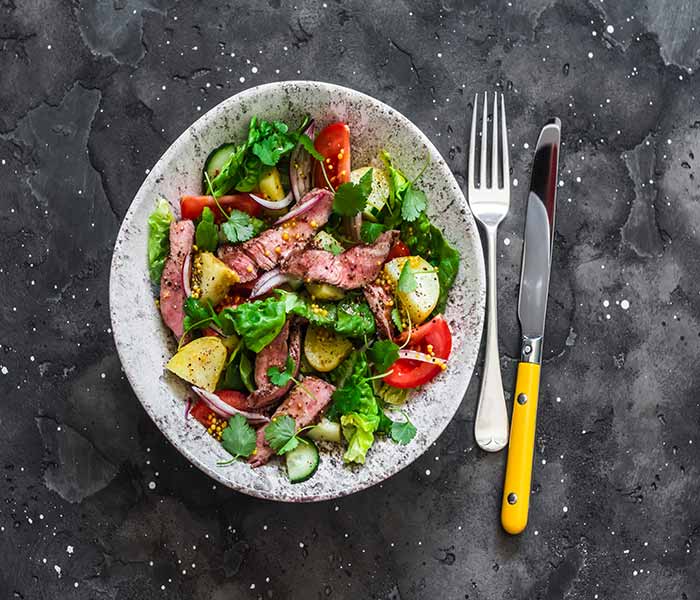 2 rump steaks (500g total) 1 tablespoon olive oil 275g baby green beans, trimmed 100g mesclun (baby salad leaves) 4 spring onions, thinly sliced
Tarragon Mustard Vinaigrette   1 1/2 tablespoons Dijon mustard with tarragon 2 tablespoons white wine vinegar 1/4 cup (60ml) olive oil
Season steaks on each side with salt and pepper.

Heat oil in a large frying pan and cook steaks for 4 minutes on each side over medium-high heat. Transfer to a plate and thinly slice.

Blanch the beans in boiling salted water for 2 minutes until tender and drain.

Tarragon mustard vinaigrette: whisk all ingredients in a small bowl and season to taste with sea salt and pepper.

Mix the blanched beans, mesclun, spring onion and steak in a large bowl, season to taste with salt and black pepper. Drizzle with dressing and go for it!
Nutrition Facts Each one: 280 calories, 15g fat (7g saturated fat), 70mg cholesterol, 400mg sodium, 17g carbohydrate (7g sugar, 3g fiber), 24g protein.
Cooking time: 25 to 30 minutes

Cooking time: 1-1/2 to 1-3/4 hours

Cooking time: 25 to 30 minutes


We want to know your opinion