Beef steaks are slow-cooked with peppers and served over hot pasta or rice.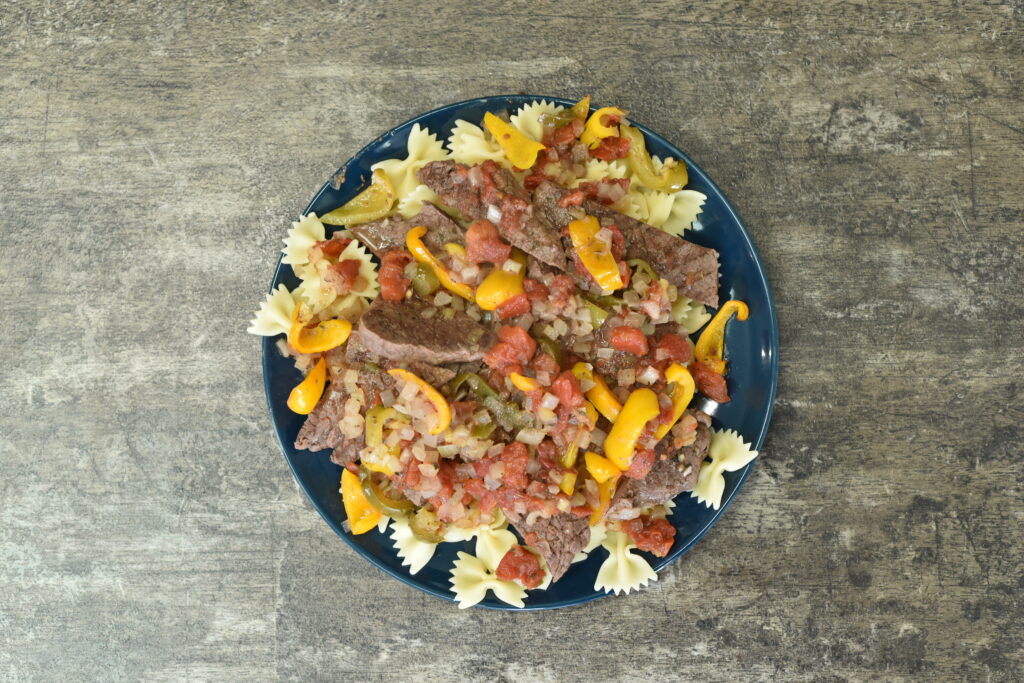 500-grams of beef Shoulder Steaks, cut 2 cm thick
1 tablespoon vegetable oil
3/4 teaspoon salt
1/2 teaspoon dried thyme leaves
1/4 teaspoon black pepper
1 large onion, chopped
1 to 2 jalapeno peppers, thinly sliced
4 medium tomatoes, chopped
1/2 green bell pepper, cut into 2,5 cm pieces
1/2 yellow bell pepper, cut into 2,5 cm pieces
3 cups hot cooked pasta or rice
Heat oven to 165°C. Heat oil in Dutch oven over medium heat until hot. Brown beef steaks. Pour off drippings. Season with salt, thyme and pepper.
Sprinkle onion and jalapeno peppers on steaks. Add 1/4 cup water; bring to a boil. Cover tightly and cook in 165°C oven 45 minutes. Add tomatoes and bell peppers. Continue cooking, covered, 30 to 45 minutes or until steaks are fork-tender. Remove steaks; keep warm.
Cook juices over high heat 8 to 10 minutes or until sauce is slightly thickened, stirring frequently. Cut steaks into serving-size pieces; place in sauce. Serve over pasta.
Cooking time: 25 to 30 minutes

Cooking time: 1-1/2 to 1-3/4 hours

Cooking time: 25 to 30 minutes


We want to know your opinion