Beef Strudel with Mixed Vegetables
Beef Strudel with Mixed Vegetables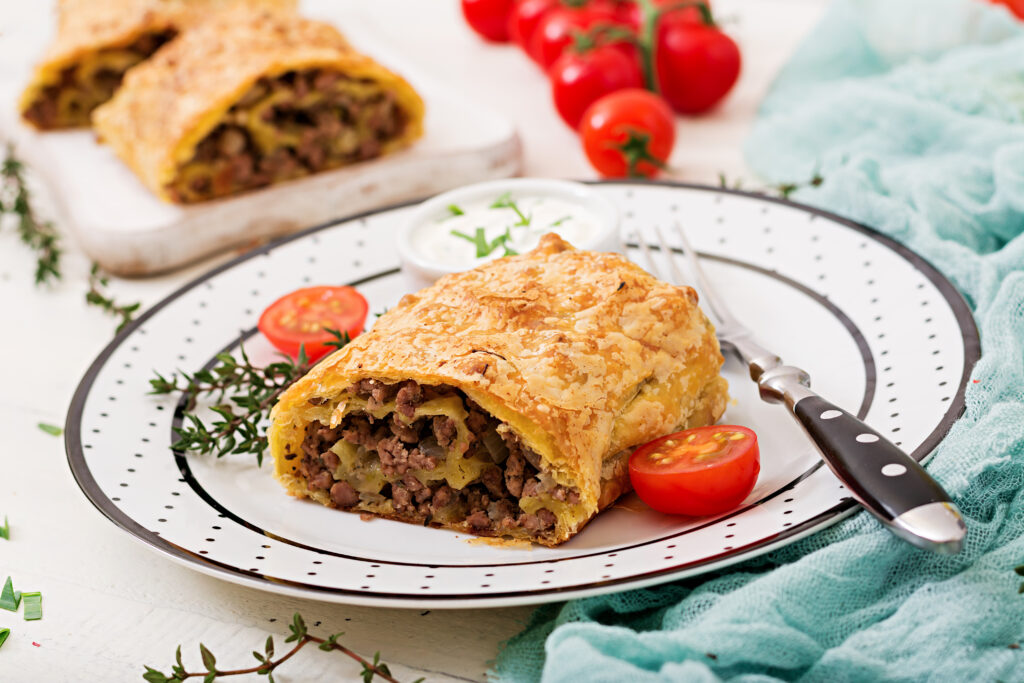 500 gr. of vegetables (ie. tomatoes, onion, leeks, aubergines, zucchini, green and red peppers, ..)
500 gr. minced beef
¾ cup of grated Parmesan cheese
Half a cup of mozzarella grated into threads
Chopped fresh herbs to taste (parsley, oregano, thyme …)
6 phyllo dough sheets
Pepper
Olive oil
Salt
Take two large pans and cover the bottoms with olive oil. In one, brown the minced beef that we have previously seasoned. In the other pan, add the vegetables that we have chosen, cut finely, and add a touch of salt.
When the vegetables are tender and sautéed, add most of the grated cheese, mozzarella and fresh herbs to the pan. Remove the pan from the heat.
On our countertop we spread a sheet of greaseproof paper on which we place a sheet of extended phyllo dough and with a kitchen brush, we give it a layer of oil. Then add another sheet of filo dough on top and grease it again with oil. Do these steps until the 6 sheets are placed one on top of the other.
Once the sheets are ready, spread the meat and vegetables on one of the edges of the dough sheet and roll all the sheets at the same time so that the filling does not come out. Then transfer the rolls to a baking tray that has been previously covered with non-stick paper and grease our strudel with oil. Sprinkle the remaining grated cheese on top and place the tray in the oven at 200º for 25 or 30 minutes. The pasta should be crisp and golden.
Once removed from the oven, let it rest for 5 minutes before cutting and serving. Ready to eat!
Cooking time: 25 to 30 minutes

Cooking time: 1-1/2 to 1-3/4 hours

Cooking time: 25 to 30 minutes


We want to know your opinion