Easy recipe: Steak and Eggs Breakfast Taco
Easy recipe: Steak and Eggs Breakfast Taco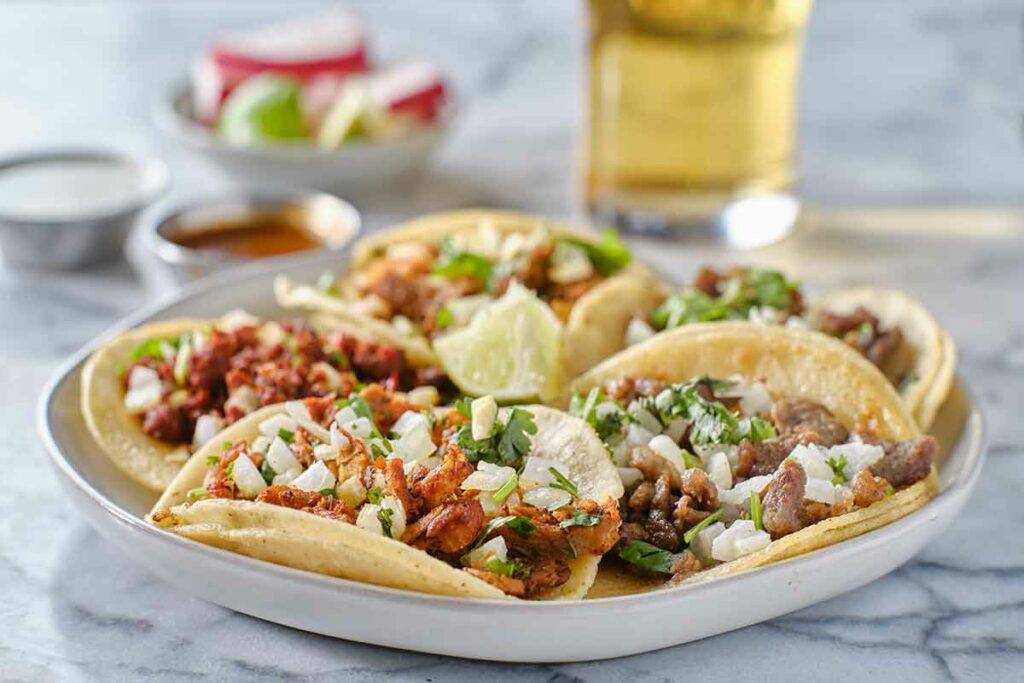 1 beef Top Sirloin Steak Boneless, cut 3/4 inch thick (about 12 ounces)
Salt
2 teaspoons vegetable oil
6 small flour tortillas (6-inch diameter), warmed
6 eggs, beaten or 1-1/2 cups egg substitute
6 tablespoons reduced-fat shredded Cheddar cheese
6 tablespoons guacamole
6 tablespoons salsa
6 tablespoons reduced-fat sour cream
1. Heat large, heavy nonstick skillet over medium heat until hot. Season beef steak with salt, as desired. Place beef in skillet. Pan-broil 10 to 13 minutes for medium rare (145°F) to medium (160°F) doneness, turning occasionally. Remove beef from skillet. Set aside; keep warm.
2. Heat oil in same skillet over medium heat until hot. Add eggs and scramble until set, stirring occasionally; keep warm.
3. Carve steak into thin slices. Top each tortilla with equal amounts of eggs, steak and 1 tablespoon each of cheese, guacamole, salsa and sour cream. Serve immediately.
Nutrition information per serving, using eggs
313 calories; 15 g fat (5 g saturated fat; 6 g monounsaturated fat); 231 mg cholesterol; 504 mg sodium; 19 g carbohydrate; 1.7 g fiber; 25 g protein; 4.8 mg niacin; 0.4 mg vitamin B6; 1.2 mcg vitamin B12; 2.8 mg iron; 38.7 mcg selenium; 3.5 mg zinc; 183.2 mg choline.
This recipe is an excellent source of protein, niacin, vitamin B6, vitamin B12, selenium, zinc and choline; and a good source of iron.
Cooking time: 25 to 30 minutes

Cooking time: 1-1/2 to 1-3/4 hours

Cooking time: 25 to 30 minutes


We want to know your opinion