These ghoulish sandwiches provide several ideas for garnishes like black olive spiders and green onion broomsticks!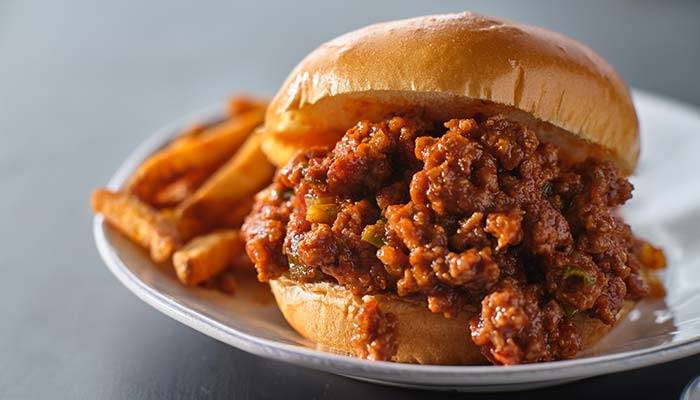 1 pound Ground Beef 1 small onion, chopped 1/2 cup chopped orange bell pepper 1 can (8 ounces) tomato sauce with basil, garlic and oregano 1/2 cup chili sauce 1 tablespoon Worcestershire sauce 1/2 teaspoon salt 1/8 teaspoon pepper 4 kaiser rolls, split
Ghoulish Garnishes: Black olive and orange bell pepper spider Cheddar cheese jack-o-lantern faces Cheese curl devil horns Green onion broomsticks
Heat large nonstick skillet over medium heat until hot. Add Ground Beef, onion and bell pepper; cook 8 to 10 minutes, breaking into 3/4-inch crumbles and stirring occasionally. Remove drippings. Stir in tomato sauce, chili sauce, Worcestershire sauce, salt and pepper. Cook an additional 3 minutes or until heated through; stirring occasionally.
Spoon equal amounts of beef mixture on bottom half of each roll. Decorate beef mixture or roll tops with vegetable decorations, as desired (see Cook's Notes). Close with top half of each roll.
Test Kitchen Tips Cooking times are for fresh or thoroughly thawed Ground Beef. Ground Beef should be cooked to an internal temperature of 160ºF. Color is not a reliable indicator of Ground Beef doneness.
NUTRITIONAL INFORMATION FOR SPOOKY SLOPPY JOES
Nutrition information per serving: 468 calories; 17 g fat; 76 mg cholesterol; 1986 mg sodium; 47 g carbohydrate; 3 g protein; 7.5 mg niacin; 0.5 mg vitamin B6; 2.4 mcg vitamin B12; 4.9 mg iron; 6 mg zinc.
This recipe is an excellent source of niacin, vitamin B6, vitamin B12, iron and zinc.
Cooking time: 25 to 30 minutes

Cooking time: 1-1/2 to 1-3/4 hours

Cooking time: 25 to 30 minutes


We want to know your opinion