Seared US prime rib of beef
Seared US prime rib of beef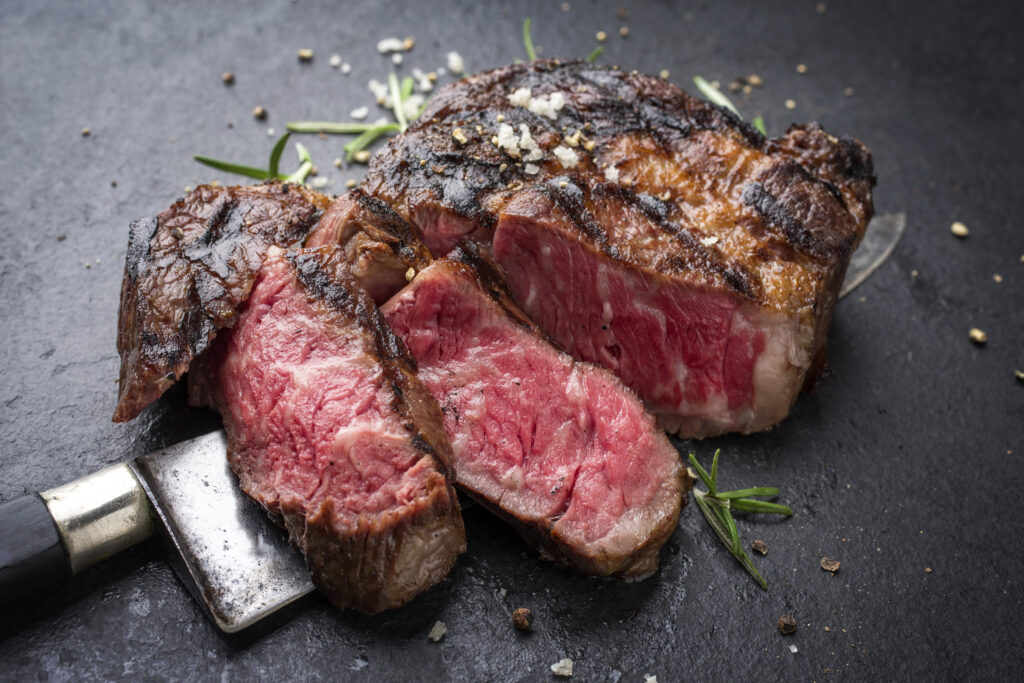 1x 750 g prime rib
. For the granola:
150 goats
75 g sliced California Almonds
75 g sunflower seeds
75 g pumpkin seeds
½ x teaspoon salt
2 tsp fennel seeds
½ teaspoon turmeric
1 x pinch cinnamon
¼ teaspoon cayenne pepper
½ teaspoon nigella seeds
1 large egg white
50 ml olive oil
75 ml maple syrup
. Red wine jus ingredients
1 x shallot finely diced
25 g unsalted butter
400 ml Napa Valley Cabernet Sauvignon
400 ml reduced beef stock o demi glacé
4 cloves garlic, skin on
1 x large sprig thyme
1 x large sprig rosemary
salt and pepper to taste
. For the sweet potatoes
750 g sweet potatoes cut into fries/chips
2 tbsp vegetable oil
2 tbsp polenta
salt and pepper
For the seared beef:
– Cook for 20 minutes (plus resting time).
For the sweet potato and polenta fries:
-Heat oven to 200C.
-Toss the sweet potatoes with the oil, salt and polenta in a large bowl.
-Spread out onto two large baking trays, then roast for 45 mins until crisp.
For the red wine jus:
-Heat the butter in a medium saucepan and when foaming, add the shallots and cook over a medium heat for 7-10 minutes, till soft and starting to colour.
-Add the herbs and garlic.
-Turn up the heat and add the red wine and reduce by half.
-Add the beef jus and reduce in total by 1/3rd.
-Strain and discard the herbs and garlic.
Season to taste
Cooking time: 25 to 30 minutes

Cooking time: 1-1/2 to 1-3/4 hours

Cooking time: 25 to 30 minutes


We want to know your opinion