This meal is perfect to celebrate an event and share with family and friends. It's delicious and tasty!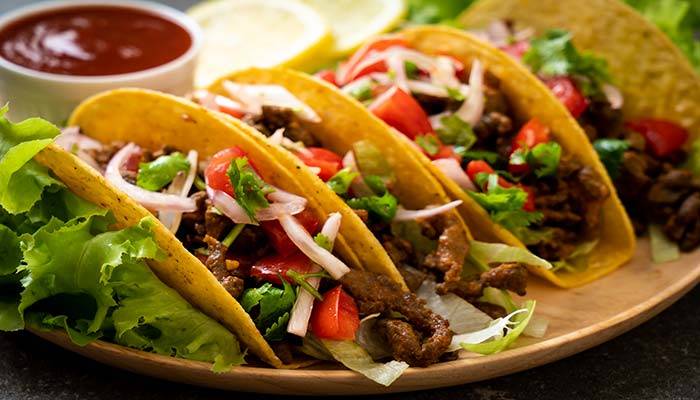 1 pound lean ground beef
½ cup tomato sauce
¼ cup water
12 taco shells
¼ teaspoon ground black pepper
½ garlic powder
½ teaspoon dried oregano
1 tablespoon chili powder
1 teaspoon ground cumin
¾ teaspoon salt
This meal is perfect for a birthday party or to celebrate a big event with family and friends. It is a nutritional dish and the mix between beef, spices and tomato sauce creates a special flavor. It looks delicious but tastes better!
INSTRUCTIONS FOR HOMEMADE TACOS
1. Season the ground beef with salt and pepper.
2. Add the ground beef to a large skillet over medium-high heat and crumble the meat with a spoon. Then, add the chili powder, cumin, oregano, garlic powder, salt and stir well.
3. Cook until the meat is cooked, about 9 minutes, and stirring occasionally.
4. Reduce the heat to medium and add the tomato sauce and a bit of water.
5. Cook and stirring until some of the liquid evaporates but the meat mixture is still a little saucy.
6. Remove from the heat.
7. Warm the taco shells around 1-2 minutes.
8. Fill the taco shells with the beef and with the all toppings you want.
BEST TOPPINGS FOR TACOS
There are plenty of ingredients that pair well with tacos, but here are some classic ingredients and foods you never thought to add to tacos.
If you want to add a sweet, fresh flavor, you can use grilled corn, mango, or fried sweet onion. Also, you can add a sour touch with lemon juice, yogurt sauce, or guacamole. Other alternatives are egg, pickled vegetables, cheese and spices like coriander.
Cooking time: 25 to 30 minutes

Cooking time: 1-1/2 to 1-3/4 hours

Cooking time: 25 to 30 minutes


We want to know your opinion