Grilled flatbread topped with sliced steak, fresh arugula, caramelized onions and creamy blue cheese.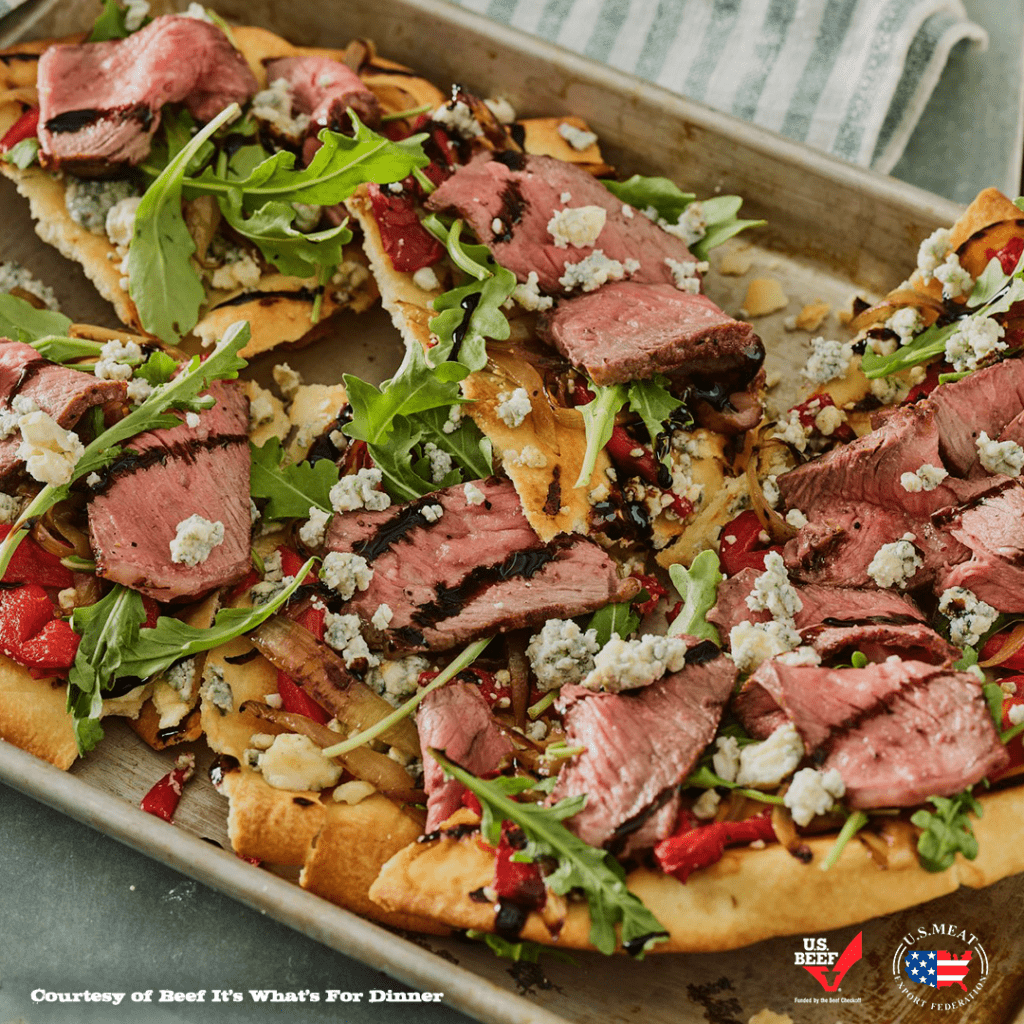 1 beef Strip Steak, Boneless
refrigerated pizza dough
1 white onion
1-1/2 tbsp olive oil
1/2 Cup roasted red peppers, sliced
1/2 Cup blue cheese
1/2 Cup arugula leaves
1 tbsp balsamic syrup
1 tsp salt
1 tsp black pepper
Pre-heat a small skillet over medium heat; add 1/2 tablespoon olive oil and onions to the pan. Cook for 8 to 10 minutes or until onions are caramelized; Remove from skillet and set aside.
On a greased sheet pan, take the pizza dough and form it to the size of the sheet pan.
Place pizza dough on grid over medium heat. Grill the dough for 30 seconds to 1 minute on each side being careful not to burn it. Remove the dough and place it back on the sheet pan.
Top the flat bread with roasted red peppers & 1/4 cup of blue cheese. Bake in the oven at 190ºC for 10 minutes; once the cheese is melted slightly remove from oven and set aside.
Season both sides of the steak with salt & pepper. Place steak on grid. Grill according to the chart for medium rare (160ºC) to medium (170ºC) doneness, turning occasionally.
Remove steak and let rest for 5 minutes. Slice into 1 cm strips and set aside.
Take the flat bread and top with the caramelized onions, arugula, sliced steak, remaining blue cheese, and drizzle the balsamic syrup on top. Cut into 6 even sized squares and serve. Enjoy it!
*Courtesy of Beef It's What's For Dinner.
Cooking time: 25 to 30 minutes

Cooking time: 1-1/2 to 1-3/4 hours

Cooking time: 25 to 30 minutes


We want to know your opinion