Grecian Beef Strip Steaks & Mushroom Kabobs
Grecian Beef Strip Steaks & Mushroom Kabobs
Beef Strip Steak gets the Greek treatment paired with lemon, feta and mushrooms.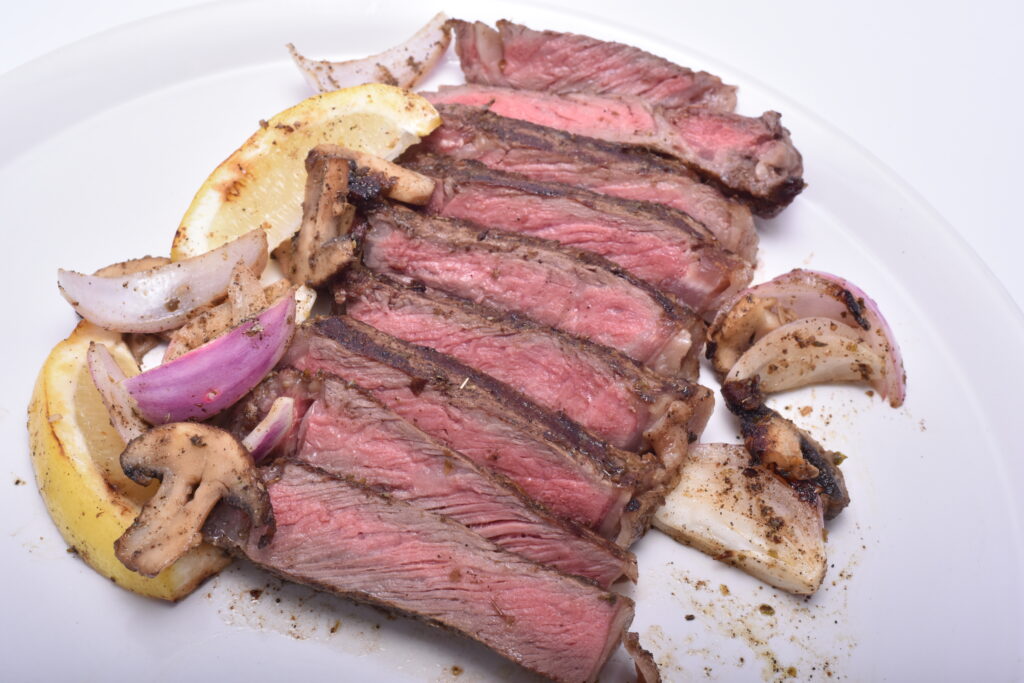 2 beef Strip Steaks Boneless, cut 2,5 cm thick (280 grams each)
450 grams medium mushrooms
1 medium red onion, cut into wedges
2 tablespoons olive oil
6 lemon wedges
1/4 cup crumbled feta cheese (optional)
Lemon Pepper Rub:
1 tablespoon minced garlic
2-1/2 teaspoons lemon pepper
1-1/2 teaspoons dried oregano leaves
Combine Lemon Pepper Rub ingredients. Combine mushrooms, onion, oil and 2 teaspoons rub in medium bowl; toss. Alternately thread mushrooms and onion onto six 30 cm metal skewers. Finish with a lemon wedge.
Press remaining rub onto beef Strip Steaks. Place steaks and kabobs on grid over medium, ash-covered coals. Grill steaks, covered, 11 to 14 minutes (over medium heat on preheated gas grill, 11 to 15 minutes) for medium rare (63°C) to medium (72°C) doneness, turning occasionally. Grill kabobs 6 to 8 minutes or until mushrooms are tender, turning occasionally.
Remove vegetables from skewers; toss with cheese, if desired. Carve steaks into slices. Season beef and vegetables with salt, as desired.
Cooking time: 25 to 30 minutes

Cooking time: 1-1/2 to 1-3/4 hours

Cooking time: 25 to 30 minutes


We want to know your opinion