Double Decker U.S. Beef Burger
Double Decker U.S. Beef Burger
Satisfy your burger cravings with this juicy, mouth-watering version. Irresistible!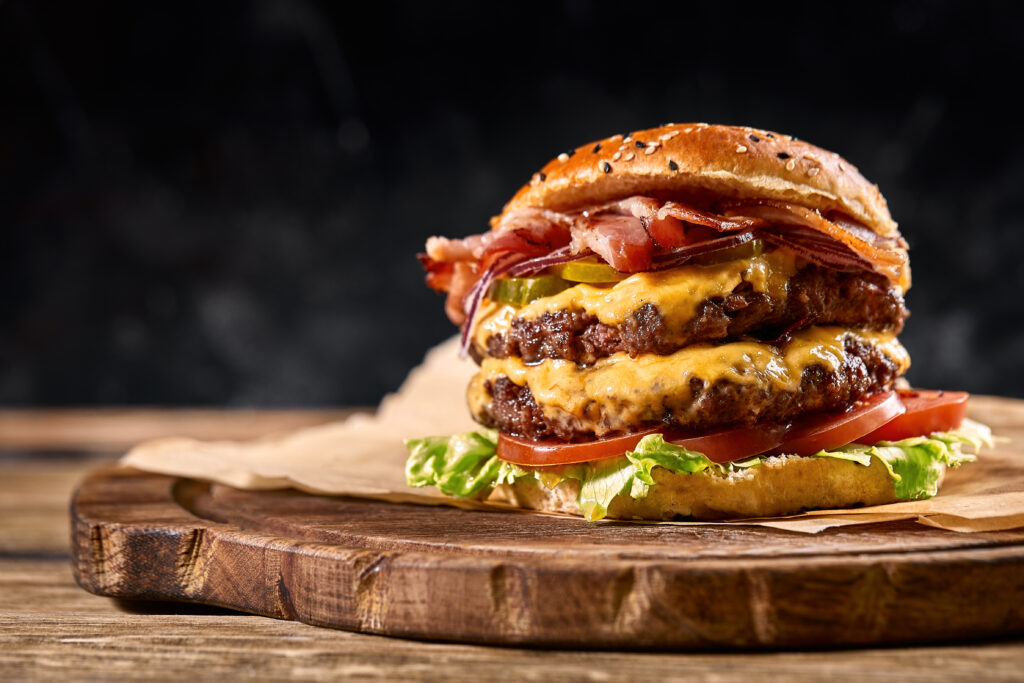 500 g U.S. brisket, ground
500 g U.S. chuck, ground
10 g salt
5 g black pepper
150 g Colby cheese, sliced
2 baby lettuces
1 large tomato, sliced
1 medium red onion, sliced into rings
4 burger buns
4 burger bun bases
Dressing
45 g mayonnaise
45 g ketchup
10 g Dijon mustard
4 g freshly ground black pepper
1 baby lettuce, finely chopped
Burgers
Mix the ground U.S. brisket and chuck in a bowl. Season with salt and black pepper.
Form 8 equal beef patties (125 g each).
Cook the patties in a large nonstick frying pan (or on a griddle) on high heat for 2 minutes on the first side.
Flip the patties and add the cheese on top. Cook for further 2 minutes.
Start building the burger by first spreading a tablespoon of the burger sauce on the bun base, then add some babe lettuce leaves, a slice of tomato, the cheesy patty, red onion rings, another base bun, more sauce, a second patty and the top bun.
Dressing
Combine the mayonnaise, ketchup, Dijon mustard and black pepper in a bowl.
Incorporate the chopped baby lettuces and chill.
Have it your way or live a real burger joint experience by serving with some fries or potato chips and a milkshake!
Cooking time: 25 to 30 minutes

Cooking time: 1-1/2 to 1-3/4 hours

Cooking time: 25 to 30 minutes


We want to know your opinion