Crunchy Beef Bites With Vampire Blood Dipping Sauce
Crunchy Beef Bites With Vampire Blood Dipping Sauce
These tasty bites are not frightful when served beside your favorite veggies and fruit!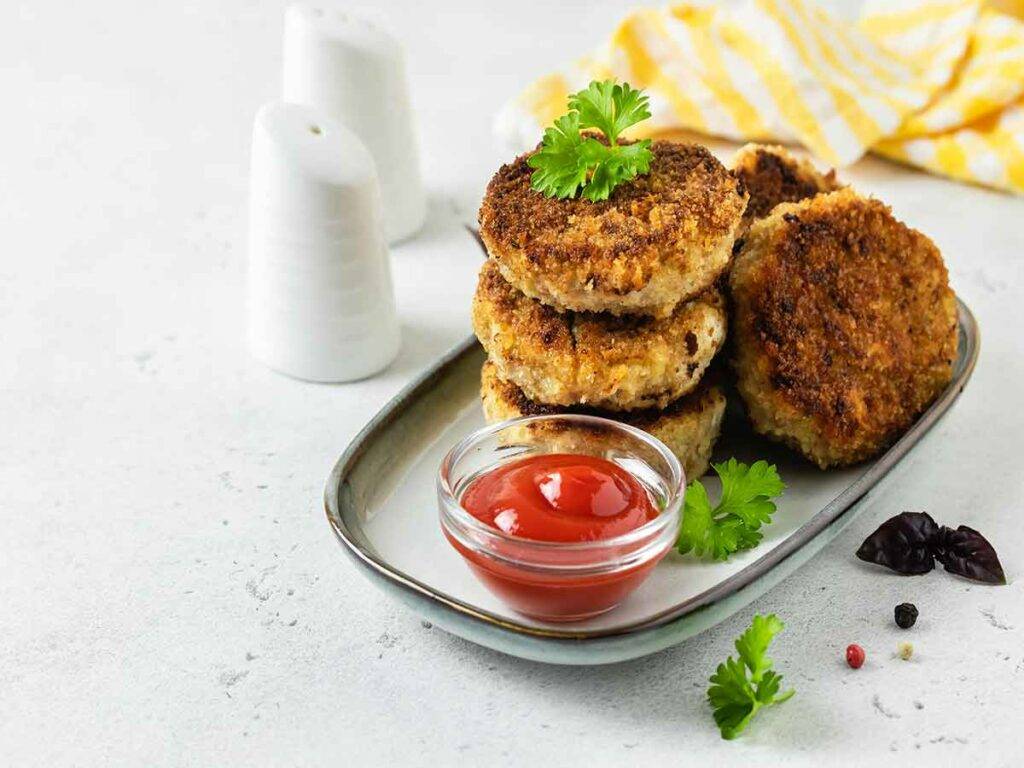 1 pound Ground Beef (95% lean)
4-1/2 cups baked nacho cheese-flavored tortilla chips
2 tablespoons taco seasoning mix
1 can (4 to 4-1/2 ounces) chopped mild green chiles, drained
16 cubes (/2-inch each) reduced fat Cheddar cheese (about 1-1/4 ounces)
1 egg
1 tablespoon water Nonstick cooking spray
Sauce:
6 tablespoons prepared thick taco sauce 3 tablespoons honey
Always WASH your hands before beginning to prepare a recipe. GATHER your cooking supplies (see list). MAKE sure you have all the ingredients. TURN the oven setting to 400°F.
PLACE the tortilla chips in a food safe plastic bag. PRESS out as much air as possible and SEAL the bag. CRUSH the chips into very small pieces with your hands by pressing down on bag. Set aside until ready to use.
PLACE the Ground Beef, taco seasoning and green chilies in a large bowl. MIX lightly but not too much with 2 forks until everything is combined. DIVIDE the beef mixture into 16 equal portions on cookie sheet. SHAPE each portion around 1 cheese cube, completely covering the cheese. WASH your hands thoroughly with warm soapy water.
PLACE the egg and water in a shallow dish. BEAT with a wire whisk to mix well. PLACE the crushed chips in another shallow dish. SPRAY a large baking pan with nonstick cooking spray.
DIP each meatball into egg mixture and then roll it into the chips to coat it completely. PRESS the meatball with the palm of your hand to flatten it into a nugget shape. If necessary, COAT the nugget with more chips. As the nuggets are formed, PLACE them on the baking pan. SPRAY the tops of the nuggets generously with nonstick cooking spray.
Adult help needed: BAKE in the oven 15 to 20 minutes, until the nuggets are no longer pink in the center and juices show no pink color. Careful! The pan will be very hot! The nuggets are done when a food thermometer stuck into the nuggets reads 160°F. Using pot holders, REMOVE nuggets from oven. Keep warm.
While the nuggets are baking, PLACE the taco sauce and honey in a small glass microwave-safe bowl. STIR with a spoon to mix well.
Adult help may be needed: MICROWAVE on HIGH 30 seconds or until the sauce is warm. Careful! The bowl may be very hot! Using pot holders, REMOVE bowl from the microwave. Serve the nuggets with the warm sauce.
Test Kitchen Tips Food Safety Tip: After handling raw ground beef, thoroughly wash your hands with warm soapy water for at least 20 seconds. Food Safety Tip: Always place cooked foods on a clean plate or cutting board. Never place cooked foods on an unwashed dish or board that held raw meat.
NUTRITIONAL INFORMATION FOR CRUNCHY BEEF BITES WITH VAMPIRE BLOOD DIPPING SAUCE
Nutrition information per serving: 391 calories; 12 g fat (5 g saturated fat; 3 g monounsaturated fat); 121 mg cholesterol; 1061 mg sodium; 41 g carbohydrate; 2.4 g fiber; 29 g protein; 5.3 mg niacin; 0.4 mg vitamin B6; 2.3 mcg vitamin B12; 4.2 mg iron; 23.1 mcg selenium; 6.4 mg zinc.
This recipe is an excellent source of protein, niacin, vitamin B6, vitamin B12, iron, selenium and zinc.
Cooking time: 25 to 30 minutes

Cooking time: 1-1/2 to 1-3/4 hours

Cooking time: 25 to 30 minutes


We want to know your opinion