Pepper-Crusted Tri-Tip Roast With Garlic-Sherry Sauce
Pepper-Crusted Tri-Tip Roast With Garlic-Sherry Sauce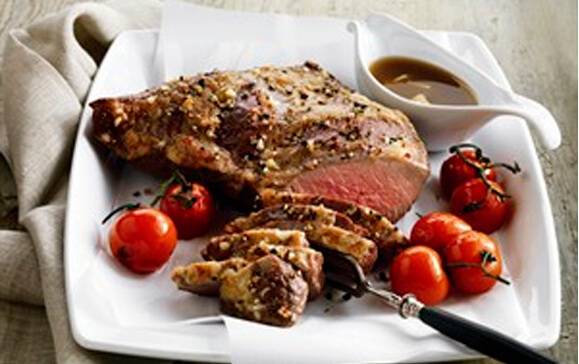 1 beef Tri-Tip Roast (2 pounds) Rub: 1 tablespoon coarsely crushed mixed peppercorns (black, white, green and pink) 2 cloves garlic, minced
Sauce: 1/3 cup dry sherry 2 cloves garlic, thinly sliced 4 teaspoons cornstarch 1 can (14 to 14-1/2 ounces) beef broth
Preheat oven to 425°F. Combine Rub ingredients; press evenly onto all surfaces of beef roast.
Place roast on rack in shallow roasting pan. Do not add water or cover. Roast in 425°F oven 30 to 40 minutes for medium rare; 40 to 50 minutes for medium doneness.
Remove roast when instant-read thermometer registers 135°F for medium rare; 150°F for medium. Transfer roast to carving board; tent loosely with aluminum foil. Let stand 20-25 minutes. (Temperature will continue to rise about 10°F to reach 145°F for medium rare; 160°F for medium.)
Meanwhile, prepare Sauce. Combine sherry and garlic in small saucepan; bring to a boil. Cook 1 to 2 minutes or until liquid is reduced by half. Dissolve cornstarch in broth; add to saucepan. Bring to a boil, stirring constantly; cook and stir 2 to 3 minutes or until slightly thickened. Season with salt and ground black pepper, as desired.
Carve half of roast across the grain into thin slices. Serve with half of sauce. Reserve remaining roast and sauce for Beef and Vegetable Cheese Steak Sandwich or Korean-Style Beef and Rice Bowl.
NUTRITIONAL INFORMATION FOR PEPPER-CRUSTED TRI-TIP ROAST WITH GARLIC-SHERRY SAUCE
Nutrition information per serving: 183 calories; 7 g fat (3 g saturated fat; 4 g monounsaturated fat); 60 mg cholesterol; 400 mg sodium; 4 g carbohydrate; 0.2 g fiber; 23 g protein; 6.7 mg niacin; 0.5 mg vitamin B6; 1.3 mcg vitamin B12; 1.5 mg iron; 27.5 mcg selenium; 4.2 mg zinc; 87.0 mg choline.
This recipe is an excellent source of protein, niacin, vitamin B6, vitamin B12, selenium and zinc; and a good source of choline.
Cooking time: 25 to 30 minutes

Cooking time: 1-1/2 to 1-3/4 hours

Cooking time: 25 to 30 minutes


We want to know your opinion