High-protein recipe: Chimichurri steak wraps
High-protein recipe: Chimichurri steak wraps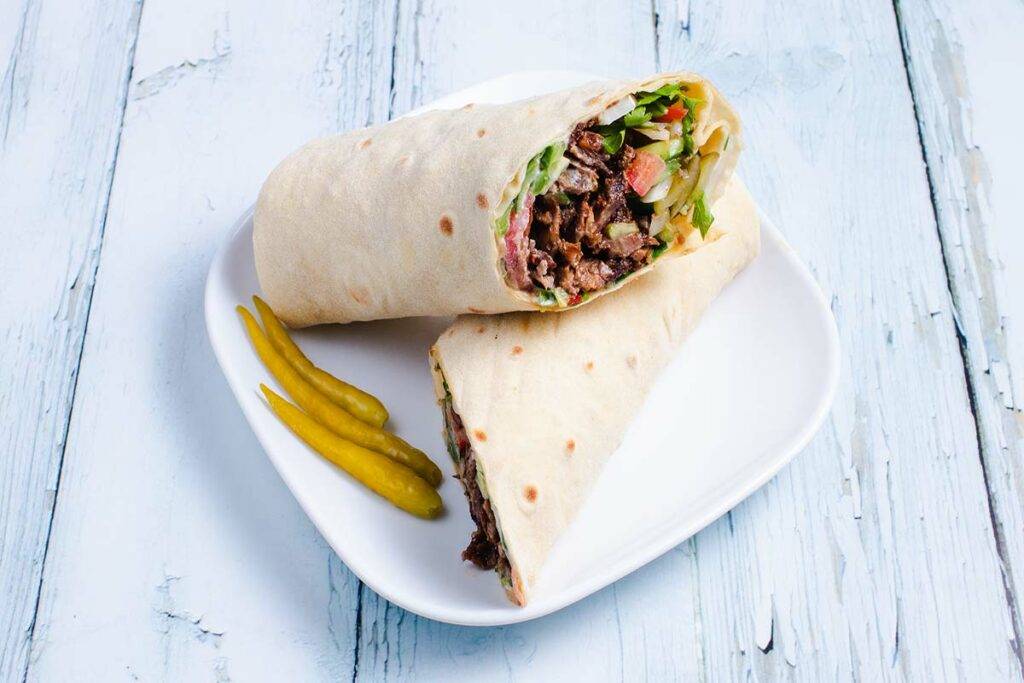 12 ounces grilled beef steak, cut into slices 3 cups fresh baby spinach 1/2 large red bell pepper, cut into thin strips 4 medium whole wheat tortillas (8 to 10-inch diameter)
Chimichurri Sauce: 1 cup fresh parsley leaves 2 cloves garlic 3 tablespoons olive oil 1 tablespoon red wine vinegar 1/4 teaspoon salt
An easy chimichurri sauce adds big flavor to wraps made with steak, spinach and red bell pepper.
Place parsley and garlic in food processor or blender container. Cover; process until finely chopped. Add oil, vinegar and salt; process just until blended.
Spread each tortilla evenly with Chimichurri Sauce, leaving 1/4-inch border around edge. Top with equal amounts spinach, bell pepper slices and beef slices on top two-thirds of tortilla. Fold bottom of tortilla up over filling. Fold right and left sides to center overlapping edges; secure with wooden picks; if desired.
NUTRITIONAL INFORMATION FOR CHIMICHURRI STEAK WRAPS
Nutrition information per serving: 340 calories; 16 g fat (3 g saturated fat; 9 g monounsaturated fat); 49 mg cholesterol; 410 mg sodium; 25 g carbohydrate; 3.7 g fiber; 30 g protein; 8.7 mg niacin; 0.7 mg vitamin B6; 1.5 mcg vitamin B12; 4.1 mg iron; 30.7 mcg selenium; 5.6 mg zinc.
This recipe is an excellent source of protein, niacin, vitamin B6, vitamin B12, iron, selenium and zinc; and a good source of fiber.
Image/recipe courtesy of the Beef Checkoff and www.BeefItsWhatsForDinner.com
Cooking time: 25 to 30 minutes

Cooking time: 1-1/2 to 1-3/4 hours

Cooking time: 25 to 30 minutes


We want to know your opinion