Chimichurri-Marinated Strip Filets
Chimichurri-Marinated Strip Filets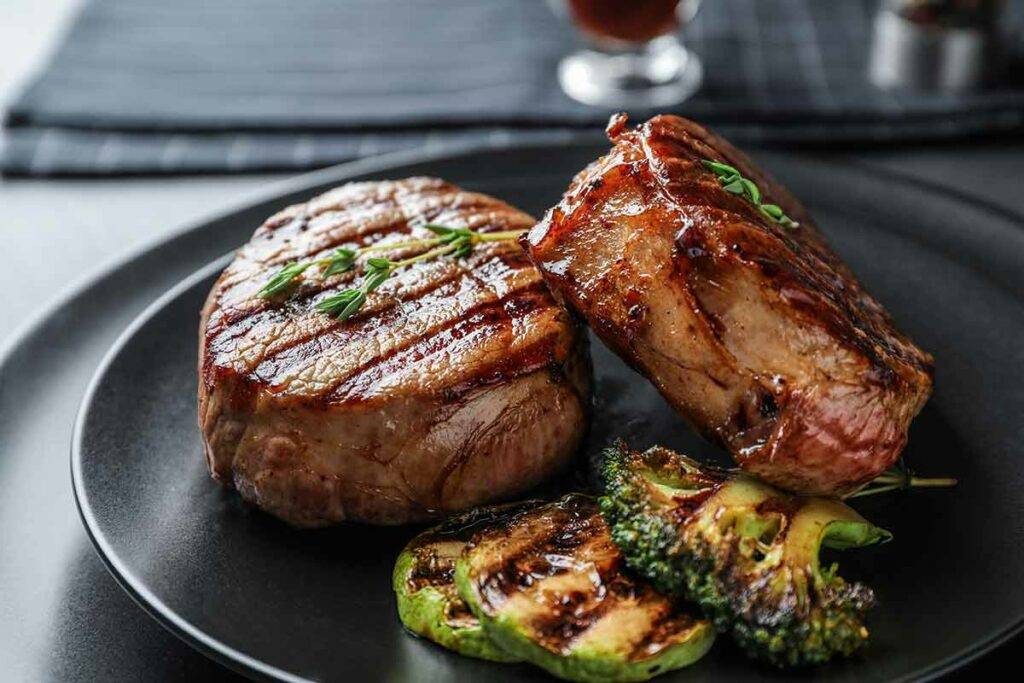 4 beef Strip Filets, cut 1 inch thick (about 4 to 6 ounces each)
2 cloves garlic
1/2 cup packed fresh cilantro
1/2 cup packed fresh parsley
1/4 cup olive oil
4 beef Strip Filets, cut 1 inch thick (about 4 to 6 ounces each)
2 cloves garlic
1/2 cup packed fresh cilantro
1/2 cup packed fresh parsley
1/4 cup olive oil
35 to 40 minutes Marinade Time: 15 minutes to 2 hours
1. Prepare Chimichurri Sauce. Place garlic in food processor container. Cover; process until finely chopped. Add remaining sauce ingredients. Cover; process until well blended. Remove and refrigerate 1/4 cup sauce for serving. Place beef filets and remaining sauce in food-safe plastic bag; turn steaks to coat. Close bag securely and marinate in refrigerator 15 minutes to 2 hours.
2. Remove filets from marinade; discard marinade. Place filets on grid over medium, ash-covered coals. Grill, uncovered, 12 to 15 minutes (over medium heat on preheated gas grill, 10 to 13 minutes) for medium rare (145°F)to medium (160°F) doneness, turning occasionally.
3. Serve filets with reserved Chimichurri sauce.
Nutrition information per serving:
229 calories; 14 g fat (3 g saturated fat; 8 g monounsaturated fat); 73 mg cholesterol; 148 mg sodium; 1 g carbohydrate; 0.2 g fiber; 25 g protein; 7.5 mg niacin; 0.5 mg vitamin B6; 3.3 mcg vitamin B12; 2.1 mg iron; 29.0, mcg selenium; 4.9 mg zinc; 0.9 mg choline.
This recipe is an excellent source of protein, niacin, vitamin B6, vitamin B12, selenium and zinc; and a good source of iron.
Cooking time: 25 to 30 minutes

Cooking time: 1-1/2 to 1-3/4 hours

Cooking time: 25 to 30 minutes


We want to know your opinion