Mexican-inspired pita pizzas don their own costume and customizable jack-o-lantern faces!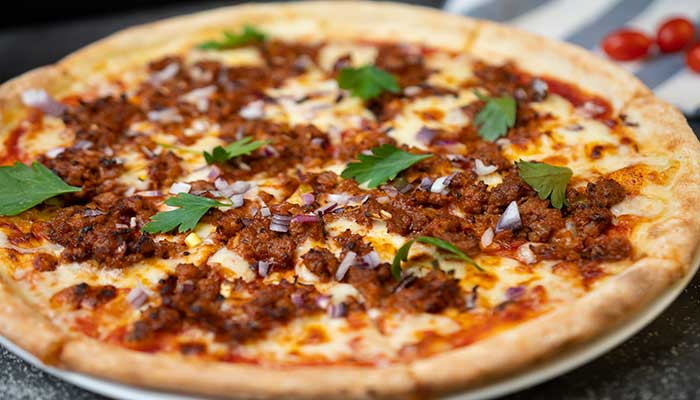 3/4 pound Ground Beef (95% lean) 1/2 cup chopped onion 1 can (15 ounces) seasoned diced tomato sauce for chili 3/4 cup rinsed drained black beans 1/4 teaspoon salt
1/8 teaspoon black pepper 6 pita breads (white or whole wheat) 6 slices reduced fat cheddar or mozzarella cheese Chopped fresh cilantro, dairy sour cream, bell pepper, ripe olives (optional)
Heat oven to 450°F. Brown Ground Beef with onion in large nonstick skillet over medium heat 8 to 10 minutes, breaking beef up into 3/4-inch crumbles. Do not drain. Stir in tomatoes and beans; bring to a boil. Reduce heat; simmer 2 to 3 minutes. Season with salt and black pepper.
Place pita breads on large baking sheet. Spread beef mixture evenly on breads. Cut desired shape(s) out of each cheese slice with cookie cutters. Place cheese cut-out(s) on each pizza.
Bake in 450°F oven 3 to 4 minutes or until beef topping is hot and cheese is melted. Garnish with cilantro, sour cream, bell pepper and olives, if desired.
Test Kitchen Tips Cooking times are for fresh or thoroughly thawed Ground Beef. Ground Beef should be cooked to an internal temperature of 160ºF. Color is not a reliable indicator of Ground Beef doneness.
NUTRITIONAL INFORMATION FOR CHILI PIZZA
Nutrition information per serving: 384 calories; 10 g fat (5 g saturated fat; 2 g monounsaturated fat); 53 mg cholesterol; 1290 mg sodium; 49 g carbohydrate; 7.8 g fiber; 28 g protein; 4.9 mg niacin; 0.4 mg vitamin B6; 1.1 mcg vitamin B12; 4.5 mg iron; 37.2 mcg selenium; 4.0 mg zinc.
This recipe is an excellent source of fiber, protein, niacin, vitamin B6, iron, selenium and zinc; and a good source of vitamin B12.
Cooking time: 25 to 30 minutes

Cooking time: 1-1/2 to 1-3/4 hours

Cooking time: 25 to 30 minutes


We want to know your opinion