High-protein recipe: Beefed-Up Meatballs
High-protein recipe: Beefed-Up Meatballs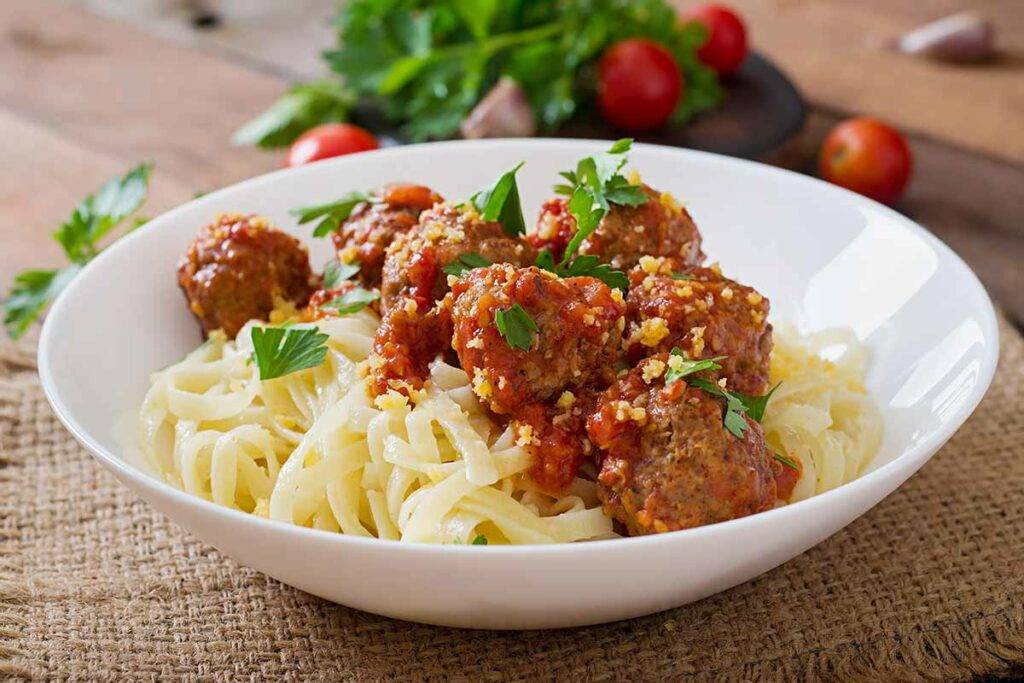 1/4 cup seasoned dry bread crumbs
1 packet (1 to 1.4 ounces) dry onion soup mix, divided
2 egg whites or 1 whole egg
1/4 teaspoon ground nutmeg
1/4 teaspoon pepper
2 cups milk
1 tablespoon cornstarch
2 tablespoons water
Hot cooked pasta
Freshly chopped parsley (optional)
1. Combine Ground Beef, bread crumbs, 2 tablespoons onion soup mix, egg whites, nutmeg and pepper in large bowl, mixing lightly but thoroughly. Shape into 12 1-1/2-inch meatballs. Heat large nonstick skillet over medium heat until hot. Place meatballs in skillet; cook 17 to 19 minutes, turning occasionally to brown evenly on all sides. Remove from pan; keep warm.
2. Pour off excess drippings from skillet, if necessary. Add milk and remaining onion soup packet to same skillet, stirring until browned bits attached to bottom of skillet are dissolved.
Combine cornstarch and water; add to skillet. Bring to a boil. Cook and stir 1 to 2 minutes or until sauce is thickened, stirring frequently. Return meatballs to skillet; cook 3 to 4 minutes or until heated through.
3. Serve over pasta. Sprinkle with parsley, if desired.
4. Cooking times are for fresh or thoroughly thawed Ground Beef. Ground Beef should be cooked to an internal temperature of 160°F. Color is not a reliable indicator of Ground Beef doneness.
5. Meatballs can also be served as an appetizer.
Nutrition information per serving, using 80% lean Ground Beef
362 calories; 18 g fat (7 g saturated fat; 7 g monounsaturated fat); 86 mg cholesterol; 597 mg sodium; 18 g carbohydrate; 0.5 g fiber; 30 g protein; 8.7 mg niacin; 0.4 mg vitamin B6; 3.1 mcg vitamin B12; 2.8 mg iron; 26.8 mcg selenium; 6.2 mg zinc; 95.3 mg choline.
This recipe is an excellent source of protein, niacin, vitamin B6, vitamin B12, selenium and zinc; and a good source of iron and choline.
Cooking time: 25 to 30 minutes

Cooking time: 1-1/2 to 1-3/4 hours

Cooking time: 25 to 30 minutes


We want to know your opinion