Beef Sausages with Caramelized Onions
Beef Sausages with Caramelized Onions
Do you want to prepare a delicious, simple and fast dish? Try our beef sausages with caramelized onions. A delight!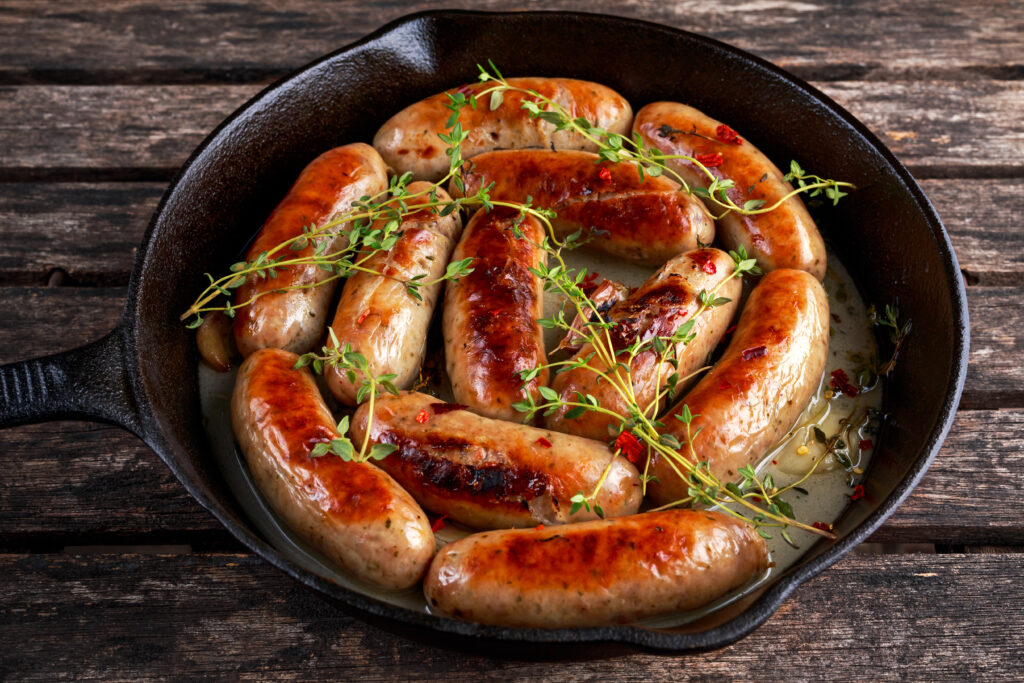 6 fresh veal sausages
1 large red onion
1 green bell pepper
2 garlic cloves
1 cayenne pepper
Ground black pepper
Ground cloves
Coarse salt
1 tablespoon soy sauce
10 tablespoons beer (whichever one you like the most)
6 tablespoons olive oil
Cut the onion and pepper into thick slices. Crush the garlic cloves.
Put a frying pan on the fire and add 6 tablespoons of oil, the onions, garlic, the peppers and some grains of coarse salt. Next, stir the vegetables and fry for 4 minutes, stirring from time to time.
When 4 minutes have passed see that the onions and peppers have a translucent color and add the spices: a little ground clove, ground pepper and cayenne pepper. Adjust it to your taste. Then let it fry again for 3 more minutes and stir.
After 3 minutes add the veal sausages on top of the sauce, stir and let the flavors mix well for a couple more minutes.
Afterwards add the amount of beer that you want, maybe 10 tablespoons, and the soy sauce. Continue stirring to reduce the alcohol in the beer for 6 more minutes. The onion caramelizes thanks to the soy sauce and the beer.
After those 6 minutes, remove the pan from the heat and the dish Simple, rich and fast!
Cooking time: 25 to 30 minutes

Cooking time: 1-1/2 to 1-3/4 hours

Cooking time: 25 to 30 minutes


We want to know your opinion