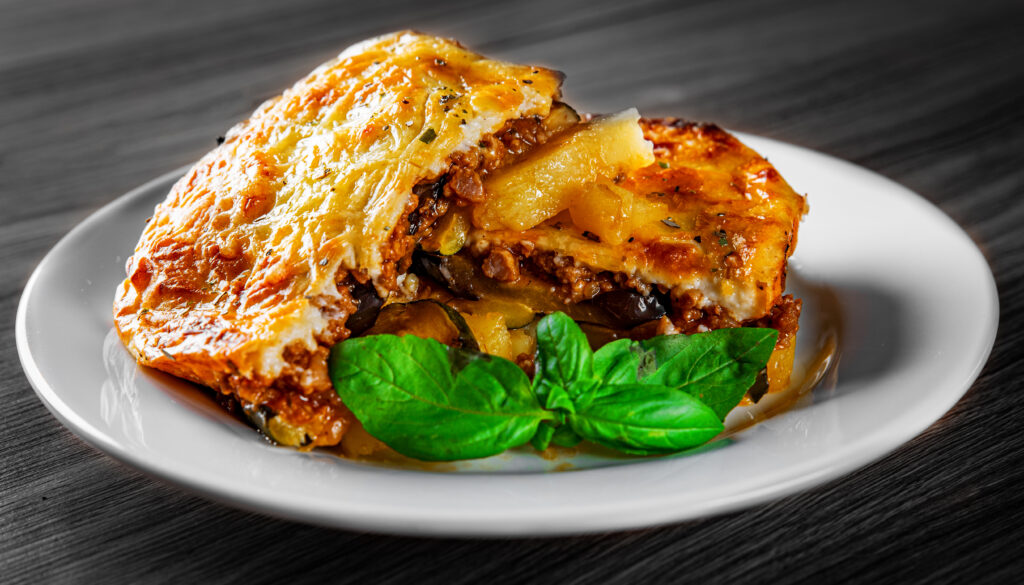 Ingredients for beef moussaka
2 aubergines
400 gr minced beef
1 onion
1 carrot
3 tomato
2 potatoes
Half a glass of red wine
Half a glass of beef broth
Dried thyme
Salt and pepper
Parmesan cheese
For the bechamel sauce
Ground cloves
Coarse salt
1 tablespoon soy sauce
10 tablespoons beer (whichever one you like the most)
6 tablespoons olive oil
Start by cutting the aubergines into slices. Put on a paper towel (or similar) with a little salt to absorb the water. Then we lightly fry them and set them aside.
Chop the onion and carrot into small cubes. Poach them in a pan. When they are soft, we add finely chopped tomatoes. Leave in the pan to mix everything and create a sauce for the meat.
Fry the minced beef lightly in a frying pan. Add the tomatoes and vegetables mixture. In addition, add thyme, half a glass of wine and a half cube of meat broth. We let everything cook for about 10 minutes until there is no liquid left.
Make homemade bechamel sauce with 25 grams of flour, 25 grams of butter and half a liter of milk. Stir it until thick. Have all the components of the moussaka ready.
Now it's time to assemble the moussaka. At the base put a first layer of potatoes cut into slices and fried. On top put a layer of aubergines and then a layer of meat. The next layer will be aubergines and then a second layer of meat. Carefully compress it with the back of the spoon to give it shape and make it very compact.
Finally add the bechamel sauce, sprinkle with grated cheese and put the dish in the oven. Let it cook for 20 min at 160º and cook au gratin for 3 min at 220º.
Remove from the oven and serve.
Cooking time: 25 to 30 minutes

Cooking time: 1-1/2 to 1-3/4 hours

Cooking time: 25 to 30 minutes


We want to know your opinion