Beef Lasagna with Vegetables
Beef Lasagna with Vegetables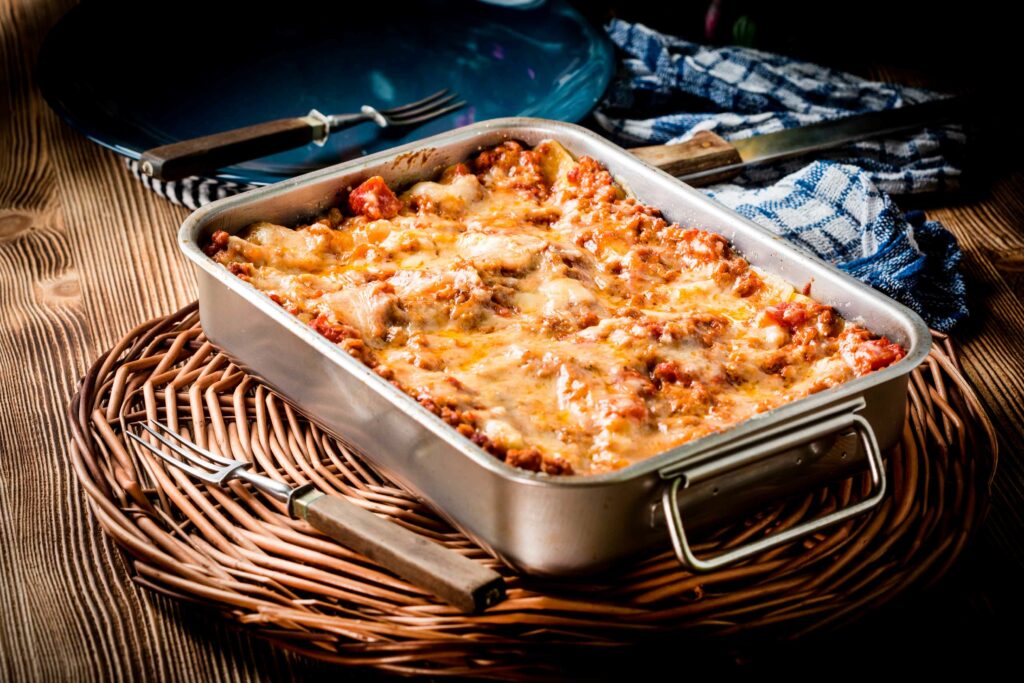 Ingredients for Beef Lasagna with Vegetables:
2 aubergines
2 zucchini
2 large onions
400 g mushrooms
2 peppers
800 g fried tomato
500 g minced beef
salt to taste
Pepper
2 packages of pasta sheets. If you dare to make your own pasta, all the better!
Olive oil
For the bechamel:
500 g whole milk
60 g flour
150 g grated cheese
1 tablespoon butter
1 tablespoon sunflower oil
Salt
Pepper
Nutmeg
Thyme
Put a frying pan on the fire with a few tablespoons of olive oil. While it reaches the right temperature, peel and finely chop the onion.
Put the onion in the hot pan and let it poach for a few minutes while stiring.
While the onion is cooking, wash, dry and dice the zucchini, aubergines and peppers in small pieces.
Add the vegetables to the pan. Mix and cook for 5 to 7 minutes over low heat.
While the vegetables are cooking, clean and wash the mushrooms. Then also add these to the pan, with the minced beef. When we have everything in the pan, let it cook and season to taste.
Mix everything very well until you see that the veal is perfectly done.
Add fried tomato, mix again and simmer. Leave the pan covered while its content is cooking, approximately 5 minutes.
Once the filling is finished, we start with the first layer of the lasagna. Add a thread of oil to the base of the mold, distribute it well and cover with the first layer of pasta.
Add the vegetable sauce and the hot meat. Then cover with another sheet of lasagna, another layer of sofrito and continue like this, until the mold is filled. The lasagna should not overflow.
Let the lasagna rest and the slices will finish cooking thanks to the stir-fry. Meanwhile, prepare the bechamel.
To make bechamel heat milk in a saucepan.
While the milk is heating, poach the onion with the butter and oil for a few minutes in a pan.
Add flour to the mixture. Stir with a whisk to prevent lumps from forming or as few lumps as possible.
Add milk and mix gently again, until the lumps are dissolved, it is light and homogeneous. It needs to be a well-blended sauce.
When the sauce thickens, remove it from the heat, add salt and pepper and add a pinch of nutmeg, and mix everything again. Bechamel ready!
Now it's time to distribute the sauce over the surface of the lasagna.
Add grated cheese on top and thyme leaves to give it a pleasant smell.
Let it cool down a bit and then … Let's eat!
Cooking time: 25 to 30 minutes

Cooking time: 1-1/2 to 1-3/4 hours

Cooking time: 25 to 30 minutes


We want to know your opinion