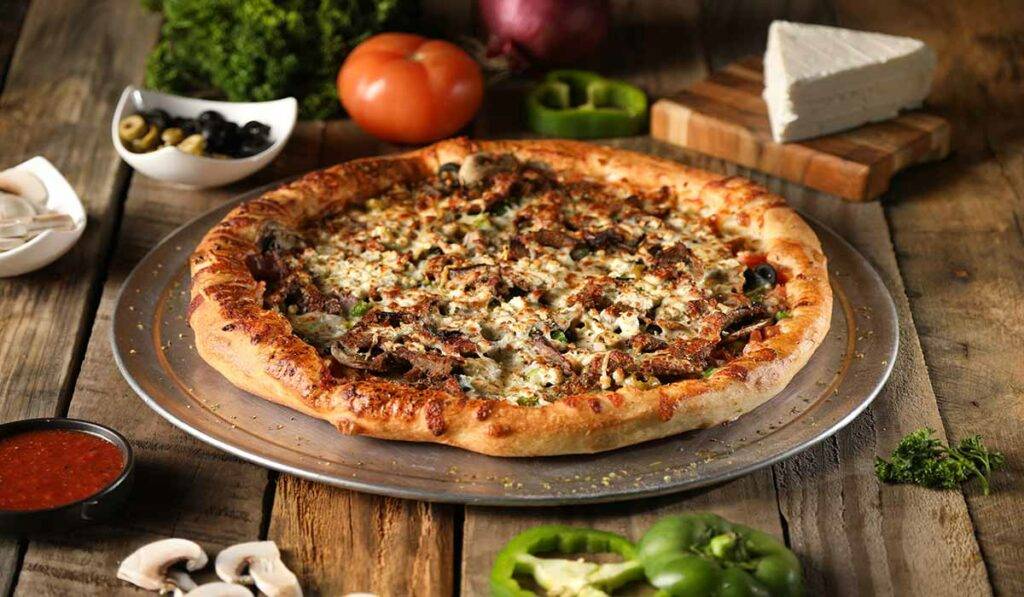 1 pound Ground Beef 1 small onion, sliced thin, separated into rings 1 small green or red bell pepper, cut into thin strips 3/4 teaspoon salt
1/2 teaspoon pepper 1 package (16 ounces) thick prebaked pizza crust (12-inch) 2 cups shredded mozzarella cheese
Heat oven to 400°F. Heat large nonstick over medium heat until hot. Add Ground Beef; cook 8 to 10 minutes, breaking into small crumbles and stirring occasionally. Remove drippings. Add onion and bell pepper; cook until vegetables are crisp-tender. Remove from skillet with slotted spoon; season with salt and pepper.
Place pizza crust on baking sheet. Top with beef mixture, then cheese. Bake in 400°F oven 8 to 10 minutes or until cheese is melted.
Test Kitchen Tips
Cooking times are for fresh or thoroughly thawed Ground Beef. Ground Beef should be cooked to an internal temperature of 160°F. Color is not a reliable indicator of Ground Beef doneness.
NUTRITIONAL INFORMATION FOR AMERICAN PIZZA
Nutrition information per serving: 481 calories; 22 g fat (1 g saturated fat; 4 g monounsaturated fat); 7 mg cholesterol; 978 mg sodium; 4 g carbohydrate; 2 g fiber; 34 g protein; 3.4 mg niacin; 0.3 mg vitamin B6; 1.6 mcg vitamin B12; 3.8 mg iron; 12.4 mcg selenium; 3.7 mg zinc.
This recipe is an excellent source of protein, vitamin B12, iron and zinc; and a good source of niacin, vitamin B6 and selenium.
Cooking time: 25 to 30 minutes

Cooking time: 1-1/2 to 1-3/4 hours

Cooking time: 25 to 30 minutes


We want to know your opinion