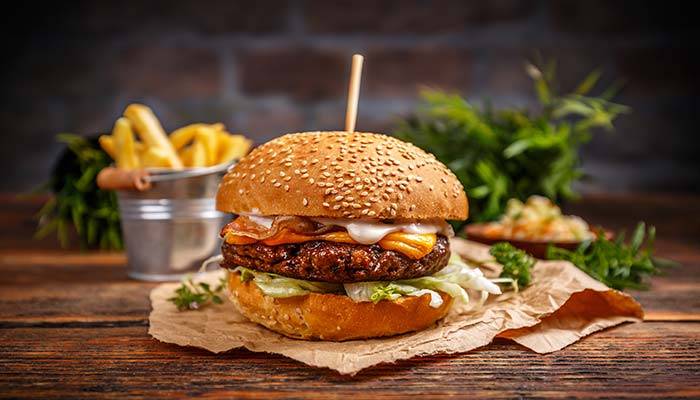 1 pound Ground Beef (95% lean) 1/4 cup soft whole wheat bread crumbs 1 large egg white 1/4 teaspoon salt 1/8 teaspoon black pepper 4 whole wheat hamburger buns, split Sesame-Soy Mayonnaise: 1/4 cup light mayonnaise 1 tablespoon thinly sliced green onion, green part only 1/2 teaspoon soy sauce 1/4 teaspoon dark sesame oil 1/8 teaspoon ground red pepper
Slaw Topping: 1/2 cup romaine lettuce, thinly sliced 1/4 cup shredded red cabbage 1/4 cup shredded carrot 1 teaspoon rice vinegar 1/4 teaspoon black pepper
Combine Sesame-Soy Mayonnaise ingredients in small bowl; refrigerate until ready to use.
Combine Slaw Topping ingredients in small bowl, set aside.
Combine Ground Beef, bread crumbs, egg white, salt and 1/8 teaspoon black pepper in large bowl, mixing lightly but thoroughly. Lightly shape into four 1/2-inch thick patties.
Place patties on grid over medium ash-covered coals. Grill, covered, 8 to 10 minutes (over medium heat on preheated gas grill, 7 to 9 minutes), until instant-read thermometer inserted horizontally into center registers 160°F, turning occasionally. About 2 minutes before burgers are done, place buns, cut sides down, on grid. Grill until lightly toasted.
Spread equal amount of mayonnaise on bottom of each bun, top with burger. Evenly divide Slaw Topping over burgers. Close sandwiches.
Test Kitchen Tips
Cooking times are for fresh or thoroughly thawed Ground Beef. Color is not a reliable indicator of Ground Beef doneness.
NUTRITIONAL INFORMATION FOR EAST AMERICAN BURGERS
Nutrition information per serving: 348 calories; 15 g fat (4 g saturated fat; 3 g monounsaturated fat); 7 mg cholesterol; 621 mg sodium; 26 g carbohydrate; 3.9 g fiber; 28 g protein; 6.9 mg niacin; 0.5 mg vitamin B6; 2.1 mcg vitamin B12; 3.8 mg iron; 41.9 mcg selenium; 6.4 mg zinc.
This recipe is an excellent source of protein, niacin, vitamin B6, vitamin B12, iron, selenium and zinc; and a good source of fiber.
Cooking time: 25 to 30 minutes

Cooking time: 1-1/2 to 1-3/4 hours

Cooking time: 25 to 30 minutes


We want to know your opinion