It is very common for baked meat to be eaten on these dates, but sometimes it can be very heavy, not very original or, simply, you may not have an oven. That is why in this post we are going to give you a few ideas and recipes for meat dishes that do not need to be cooked in the oven.
Marinated Beef Tataki with Mustard and Spices
To make a good tataki, in addition to cooking the meat on the grill on the outside and leaving it raw inside, a previous marinade is required which the food will absorb and add flavor. So for lovers of good recipes with meat here we teach you how to prepare a delicious beef tataki with mustard and spices.
You can make this recipe using whatever spices you like the most, since it is the mustard that acts as a glue and gives it its particular flavor. Coal salt can be added to this recipe, which will give a smoky touch to the meat.
Ingredients for 4 people:
1 kg of beef or beef entrecote
3 tablespoons Dijon mustard
Abundant spices to taste, to cover the meat
Extra virgin olive oil for the grill
Salt and pepper to taste
Butter for the finishing touch
Fresh thyme
Buy a thick cut of entrecote, so that when cooking it, it is still rare inside. When this is done, if a diner wants the meat cooked more, it can be done to their liking.
Start by preparing the meat, which we spread with mustard and then sprinkle it with the mixture of spices that we want to use. After sprinkling, press it in the entrecote on both sides well so that it is impregnated.
Let the meat stand in that marinade for at least 4 hours. When you are going to cook it, leave it out to take room temperature for at least an hour so that it is not cold inside, since we are not going to cook it for long.
Once the meat is luke warm, put it on a very hot griddle or grill, lightly smeared with extra virgin olive oil. Let the meat cook over very high heat for about 4 minutes on each side and also brown the edges.
When finished cooking, the external fat is removed and butter put on top of the meat to make it juicier, since an external crust will have been created. To finish, and according to the cook´s taste, put a little fresh thyme on the meat. Plate the meat by cutting it into thin slices and ready to eat!
Tortellini Stuffed with Meat
Here are two alternatives: You can either buy the tortelini stuffed with meat already made, and therefore, you just have to cook them and make the sauce, or prepare the tortellini yourself and fill them with meat.
We are going to explain how we would do it in the second case: It is simply about making the pasta:
Sift flour to avoid lumps
Add egg and beat
Mix everything
It has to be a moist dough, if it seems dry, simply add more egg. Once the dough is compact, knead it until it is relatively elastic, about 15 minutes will be enough. Then, make a ball and wrap it in cellophane, and let it rest for between 45 and 60 minutes.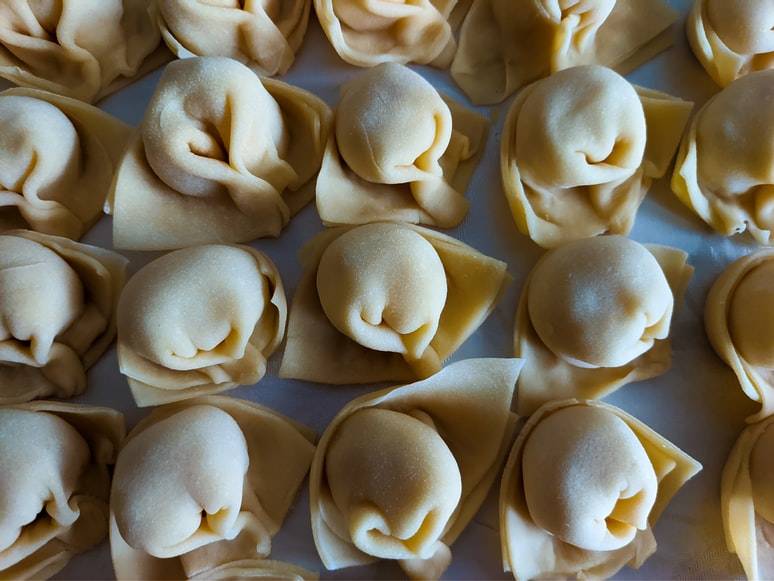 The Filling
In this case we make it with minced beef and Parmesan. If the meat is not well minced, we can chop it more ourselves, until there are small pieces, then grate the Parmesan cheese, form a ball with the filling and set it aside.
Once 1 hour has passed, spread the dough on the counter with the help of a rolling pin, do not forget to put flour on the counter, so that the dough does not stick. The dough has to be very thin, almost transparent, approximately one millimeter thick.
Then make parallel cuts about five centimeters apart and then perpendicular cuts also five centimeters apart. Once we have made the cuts, separate the squares and we add the filling.
In this step we will have to be patient, since we have to close the tortellini one by one, joining the tips of the squares and later doing what is called the navel of Venus:
Once they are all there, it´s time to cook them which will only take about five minutes,, Carefully remove the tortellini from the water so they do not break. Finally, add the sauce to taste!
Ingredients:
300 grams of flour
2 eggs
Salt
Minced beef
Parmesan
Sauce to taste
Other Recipes
If you want to resort to more traditional recipes, you can always cook a stew, like this beef stew with mushrooms or you can even make a good steak with a delicious sauce, like this brisket with pomegranate-walnut sauce and pistachio gremolata.